An exclusive interview with Mark Arminski – Scene 360
October 26, 2001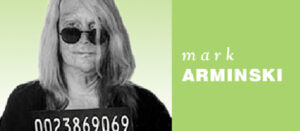 "I'm one of those individuals who tends to view everything with artistic merit." -Arminski
Mark Arminski was born in 1950 in Detroit, Michigan. He began studying art in the Oakland Community College (MI) and pursued printmaking in Stone Lithography at the Kalamazoo Institute of Arts. Rounding out his formal education was his stay at the Dynamic Graphics Education Foundation in Peoria, Illinois, where he studied computer generated art.
From an early age, Arminski had a great interest in art but his tastes in the alternative would only years later flourish into various movements and styles. In high school, he would create his own rock concert posters during class lectures – influenced by legendary local poster artists such as Gary Grimshaw and Carl Lundren. Growing up in the 1970s has left a big impression in his work, from his early appreciation of bands like The Doors and Jimi Hendrix to his interest in Pop art, Arminski has designed a whole new level of poster art. With a unique retro style of using nontraditional colors: big bold and bright colors, and an unsurpassed lettering dominating the poster layout. "From the mid '70s to '80s, rock artists were doing black and white flyers and that's all they were doing. I thought, wouldn't it be cool to do nice color posters again?" states Arminski. His attempt to revive a generation and innovate has made him an icon of success among rock collectors, and has given him an outlet to design for major international acts such as Smashing Pumpkins, Stone Temple Pilot, Nine Inch Nails, Black Crows, Marilyn Manson, Los Lobos, Iggy Pop, Aerosmith and many others. Arminski is far from satisfied to be pigeon-holed into one discipline. Working on a wide variety of surfaces such as paper, canvas, cement (murals), silkscreen, and even human skin (body painting and tattoos). At times controversial for his themes and events, however, he is never boring! Some of his noteworthy inclusions were body painting a live female model in front of cheering onlookers and also his first one man show titled "Untamed Eroticism." A show which was given by Keith Howarth, infamous owner of Royal Oak – Michigan's deliciously erotic boutique. Noir leather was put on to protest the recent Helms Senate bill to prohibit federal grants funding of 'indecent art." Ironically, many of Arminski's 'Phoenix' painted nudes were an indirect result of these very grants – as a result the show was a sensation. His posters have been showcased in many exhibits, in 1996, he participated in the 'Joint Show,' an event held in Cleveland, where the cr'me de la cr'me of rock art, past and present gathered. Also highlighting the alternative Rock and Roll art was his presence in the 'A Rage in Hogtown' in Toronto, Canada. In addition, the German Museum (fur Kunst und Gewrbe) acquired twelve posters for its permanent collection of contemporary graphics.
What can we conclude? Arminski has had an outstanding artistic career, he continues to explore new mediums, his popularity is growing every day with rock poster art, and today, he is one of the foremost rock concert poster artists in world.